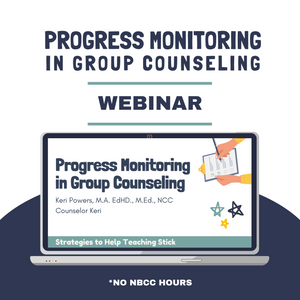 Progress Monitoring in Group Counseling: Strategies to Help Teaching Stick (Pre-Recorded Webinar)
Looking for tips for monitoring progress during your group counseling programs? This webinar will help you understand how to do this and what tools to use! 
Webinar Title:  Progress Monitoring in Group Counseling
Time: on demand - watch anytime!
Program Description: In this session, we'll review
strategies for monitoring progress outside of group setting, 
strategies for helping kids track their own progress, and 
how to get teacher buy in for data collection.
You'll Receive: a link to view the webinar and over 30 pages of handouts/tools to use to help you monitor progress!
To Register: Add this session to your cart and complete your checkout. You will receive a link to the webinar prior to the webinar start time at the email address you provide on your order. Please use a personal email address rather than a school email address as many school email platforms block our emails or mark them as spam. We don't want you to miss it!
This webinar is not eligible for NBCC hours. 


Please Note: this session was offered for the 2023 Summer Counselor Conference. If you attended, you already have access to this webinar and do not need to purchase it again. Access it through your conference login page.