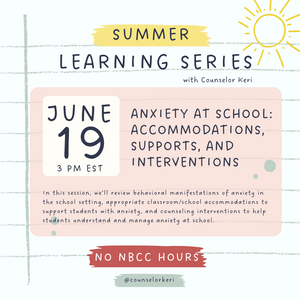 Summer Learning Series: CBT Strategies for Worry in School - No NBCC Hours
Summer Learning Series with Counselor Keri, Keri Powers, M.A. EdHD., M.Ed., NCC
Webinar Title: Anxiety at School Accommodations, Supports, and Interventions
Time: June 19, 2023, 3 pm EST. This webinar has already taken place. You can still purchase access to the webinar replay. 
Program Description: In this session, we'll review behavioral manifestations of anxiety in the school setting, appropriate classroom/school accommodations to support students with anxiety, and counseling interventions to help students understand and manage anxiety at school.
To Register: Add this session to your cart and complete your checkout. You will receive a link to the webinar replay along with supporting documents. 
This webinar is not eligible for NBCC hours. If you want to purchase the webinar that is eligible for NBCC hours,
click here
.